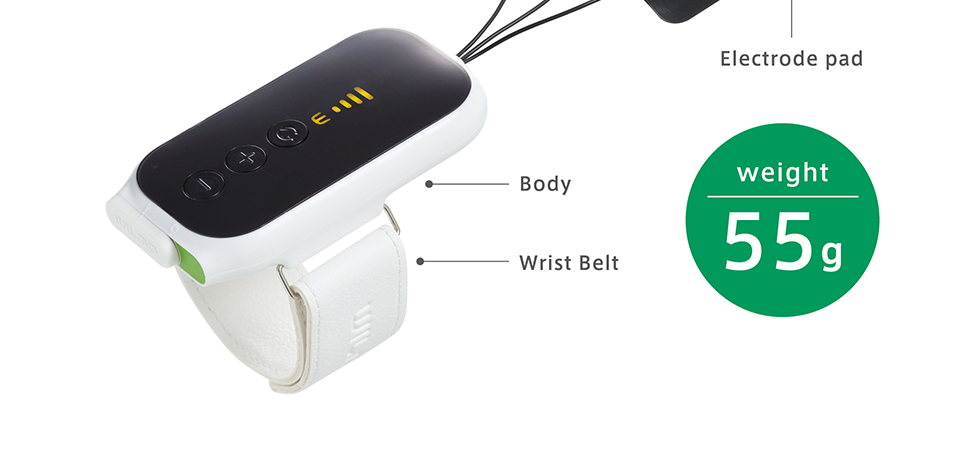 Specifications
Product name
Electrical Stimulator WILMO
Regulations
PMDA (Japan) and TFDA(Taiwan)
Certification number (JAPAN)
230AFBZX00063000
Class category
Class IIa
Purpose of use
This product is used to stimulate nerves and muscles to provide transcutaneous pain relief and improve muscle atrophy.
Size
49 x 98 x 14.5mm (except the wristband)
Weight
55g
Frequency
20Hz±10%
Treatment time
Max 8hours
Compatible standards
IEC 60601-1: 2005+AMD1: 2012
IEC 60601-1-2: 2014
IEC 60601-2-10: 2012+AMD1: 2016
Driving time
Max 8hours
Charging time
Max 3hours
* Specifications subject to change.
WILMO is a registered trademark of SK-Electronics CO., LTD., Kyoto Japan.
WILMO was developed under the instruction of Dr. Yoshihiro Muraoka, former Lab Direction at the National Hospital Organization Murayama Medical Center and professer in the Department of Health Sciences and Social Welfare at the School of Human Sciences, Waseda University Pat. No. 5725562: Electrostimulation device (Compact electrostimulation circuit that can detect EMG signals)
Technology transferred from Human Science Technology Transfer Center, a TLO certified by the Minister of Health, Labour and Wealfare.