RFID
What is RFID?
RFID is an abbreviation for (Radio Frequency Identification),
and is one type of automatic recognition technology which is expected to be used as a tool for advanced information services, and is also called an IC tag.
In addition to a data carrier such as a barcode, two-dimensional code and magnetic card, automatic recognition technologies
such as an RFID, voice recognition and biometrics are being increasingly introduced as tools to realize improvements in business and security measures.
Technology advancements and product expansion of RFIDs have been remarkable, and RFIDs will take on greater roles in many fields
such as production, logistics, retail sales, service and traffic, and in business applications such as individual identification, traceability, and response to environment.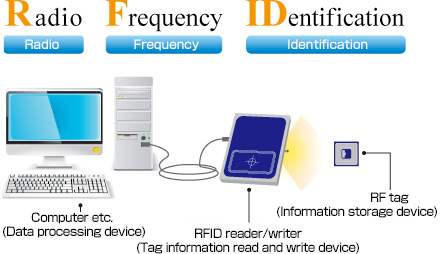 Features of RFID
Barcodes can be seen in various living scenes. This is also one type of automatic recognition technology.
There are the following differences between RFIDs and barcodes.
| | RFID | Barcode |
| --- | --- | --- |
| Communication distance | Up to tens of meters or more | Some cm |
| Simultaneous reading | ○ | × |
| Memory capacity | Large | Small |
| Write | ○ | × |
| Contamination | ○ | × |
| Cost | △ | ○ |
Lineup
RF tags are widely utilized in various fields such as production, logistics, retail, services and transportation. Our RF tag technology plays an important role in fields ranging from identification and traceability of small substances, and authenticity control to streamlining of workplaces.
Micro RF tag

μm level of "Small size" is a key feature

Size
900 x 900 μm
Frequency
UHF Band
Communication distance
Max 2 mm (depend on Measurement environment)
Memory size
(FeRAM)
TID 176 bit (Non rewritable)
EPC 160 bit (Rewritable)

On-Metal type of Mini RFID Tag

RF communication is available even embedded into Metal or Plastic resin


Size
2.2×2.5×0.91(mm)
Frequency
UHF Band
Communication distance
Max 5 mm (depend on Measurement environment)
(longer than 3.6mm in case of Tag attached on metal surface)
Memory size
(FeRAM)
TID 176 bit (Non rewritable)
EPC 160 bit (Rewritable)

Picking Tag

Easy placement by Wireless control and Certain works by 3 color LED can be made

Size
about W150xH67xD62
(main unit only, projection metal fittings are not included)
Display
3 LED modules(Green, Yellow, Red)
Communication distance
Max 5m(at internal measurement condition)
Battery exchange
No necessary