Quality assurance
SK-Electronics group promotes improvements in the provision of products and services according to the concepts of "Emphasis on customer" and "Priority on quality."
Basic policy
We promote "offering quality and service which satisfy customers" in the following activities by sophisticated production technology which we have cultivated for many years and continuous pursuit of creative technology development through a spirit of "wisdom and enthusiasm" under the philosophy of "creation and harmony."
Commitment to customer satisfaction

Timely understanding of changes in the market and carrying out marketing activities in response to customer needs
Strive to fulfil technical capability and production capacity to accurately respond to customer needs
Strive to enhance "quality of work" by continuous improvement

Strive to increase productivity by "visualization"
Improve quality and cost by "review and release"
Offer high quality products by improvement activities of "emphasis on process"
Securing global quality at domestic and overseas bases

Enhancing the quality assurance system
Share quality information
Enhancing the quality management system
Maintain effectiveness of the quality management system in medical equipment

Complying with requirements of quality standards
Conducting reviews in order to keep effectiveness and validity
Quality assurance activities
In the SK-Electronics group, each business division and group company develops a "Quality Manual" to establish a quality management system based on the quality assurance provisions of the entire group.
We conduct quality audits to check quality assurance activities.
Two plants (Kyoto Plant, Shiga Plant) in Japan and overseas group plants (Finex Plant: Tainan in Taiwan) acquired certifications of International standard ISO9001 for its quality management system. Each organization thoroughly carries out PDCA cycles of "development of improvement plan," "execution of improvement" and "evaluation of achievement status" and strives to secure quality, continuously improve quality and prevents quality problems before they occur, and further, continuously conducts effectiveness audits of the quality management system.
Internal quality auditor conducts system audits once a year.
Certification authority renews and conducts reviews to maintain once a year.
Conducts regular audits of quality assurance departments at each plant
Quality audit is conducted for each vendor who establishes quality assurance activities.
The "Quality Assurance Division" of this functional division sets up a system to globally promote improvements in quality. For example, the division operates a system to evaluate and certify the process quality for each vendor for purchased components in cooperation with the Materials Division of each business division for the purpose of ensuring global quality.
Establishing a system to detect early and prevent serious complaints, and respond to them if they occur
We control inquiry information and defect information from customers and strive to detect serious quality problems related to customer quality early and prevent the same quality problems before they occur.
Holding quality meetings for ensuring quality assurance activities
The quality meeting discusses and decides important items involved in exchange of information related to quality and implementation of countermeasures. In addition, this meeting is a place to strive to improve the quality control system and transmit information from the overseas plant to the domestic plants.
Holding a System Improvement Committee to ensure quality assurance activities
The System Improvement Committee discusses and decides important items involved in exchange of information and implementation of countermeasures in order to coordinate awareness and recognition between divisions when establishing, revising and disposing of standards documents related to QMS across divisions.
Quality assurance system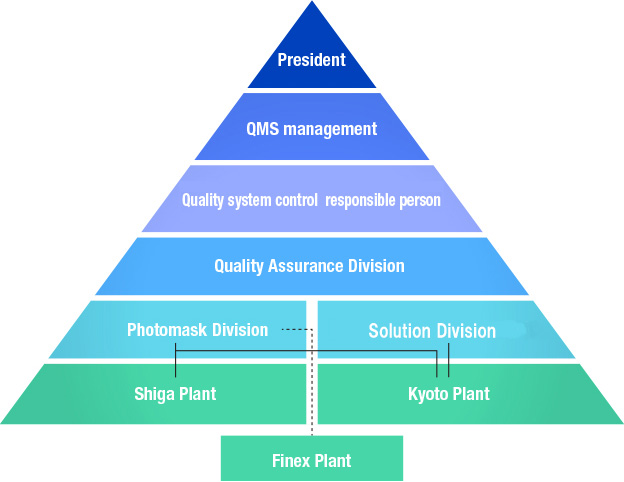 Quality system, etc., acquiring status
| | |
| --- | --- |
| 1997 | A head office to acquire ISO9000 was established |
| 1990 | Acquired ISO9002 (SHASHIN KAGAKU: Existing Kyoto Plant) |
| 2001 | SK-Electronics CO., LTD. was established |
| 2002 | Certification upgraded to ISO9001: 2000 |
| 2002 | FINEX Co., LTD. established |
| 2004 | Acquired ISO9001 (Finex Co., LTD.) |
| 2008 | Shiga Plant was established |
| 2010 | Certification upgraded to ISO9001: 2008 (Kyoto Plant, Shiga Plant, and FINEX Co., LTD.) |
| 2014 | Acquired second class medical equipment manufacturing and distribution license (GQP/GVP system of medical devices) |
| 2015 | Registered as medical equipment manufacturer (Medical equipment QMS) |
| 2016 | Acquired a license for selling and leasing specially controlled medical devices (medical device QMS) |
| 2016 | Certification upgraded to ISO9001: 2015 (FINEX Co., LTD.) |
| 2018 | Certification upgraded to ISO9001: 2015 (Kyoto Plant, Shiga Plant) |