Top message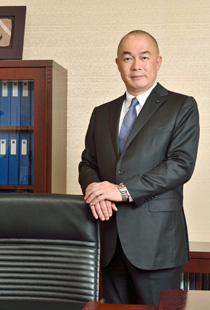 Thank you for your continued guidance and support.
In the global FPD (Flat Panel Display) market, display sizes and high definition screens continue to make advancements primarily for TVs and smartphones. And over the next few years, organic El displays are expected to grow in addition to liquid crystals. SK-Electronics considers such a change in business environment an opportunity to improve and advance its entire group's manufacturing, sales, development and support systems in order to continuously respond to advances in customer expectations upholding the slogan "pioneering spirit and perseverance."
In addition, as for new business development, our group-wide effort continues to focus on printed electronics, RFIDs and healthcare applications. We aim to offer value required by society and stabilize revenue by creating new businesses.
In the printed electronics field, we aim to realize a new manufacturing process by "thick film resist master disc" and "glass dry etching plate" to which photomask manufacturing technology of SK-Electronics has been applied and developed, as well as, contribute to "environmental footprint reductions" and "significant product manufacturing cost reductions."
In the RFID field, we offer traceability at the micrometer level in various fields such as manufacturing, distribution, retail, service and transportation by ultra-small RFIDs.
In the healthcare field, while adopting technology from Japan and from countries with advanced welfare systems, we offer healthcare and medical devices that create harmony with people, society and nature to realize a world of healthy and smiling people through manufacturing skill and effort.
We look forward to your continuous support in the future.
President & CEO



Masanori Ishida